Electro Tricho Genesis (ETG)
ElectroTrichoGenesis involves the use of a device comprised of an ergonomically designed chair with a semi spherical hood containing electrodes.
The hood is positioned over your scalp with no direct contact.Energy is delivered passively to the scalp by the low-level electric field generated within the hood.
Du Brule Hair Clinic is the only provider of ETG in southern Alberta.
Results published in the International Journal of Dermatology showed that 96.7% of those treated with ETG managed to stop the hair loss and confirmed an average increase of 66% of hair growth after 36 weeks of treatment.
The study was conducted for 70 weeks and confirmed that patients on average achieved a further 30% increase in hair volume.
Most people reported an improvement in hair condition with regards to thickness, shine and strength.
In short, ETG provides the following benefits:
Is clinically proven for 96% effectiveness
Promotes hair growth
Fully computerized
Requires less than 30 minutes a week
Suitable for men and women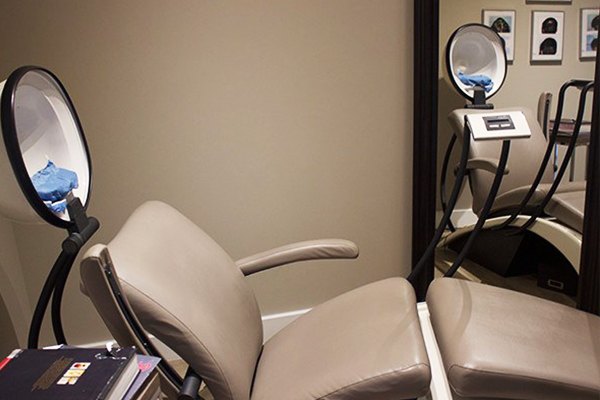 SCIENCE!
No head of hair is the same. Like fingerprints, each is slightly different. Hair bulb analysis allows us to zero in on exactly the right treatment for YOU. After a comprehensive exam and analysis, we might suggest one of our hair care products, Laser Light Therapy or ETG. We only offer these choices after a full analysis.
ETG is just another tool in our arsenal. Book your FREE consultation now to learn more!
BOOK NOW
ElectroTrichoGenesis in some cases is a perfect choice for women's hair loss. Call or contact us today for a hair analysis to see if ETG is right for you!
SEE OUR PAGE FOR WOMEN
At du Brule Hair Clinic, WE CARE!
Book a free consultation today!
At du Brule Hair Clinic, WE CARE!
Book a free consultation today!
Poor hair and scalp health can cause moderate to extreme hair loss.
Made in Quebec and developed using the most stringent procedures, the range of Continuité hair care products aims to provide effective and proven solutions to help fight hair loss.
The Continuité range includes 20 specialized products and 6 capillary first aid kits to contribute to better scalp health.
WITH CONTINUITÉ PRODUCTS, YOU BENEFIT FROM 60 YEARS OF RESEARCH & DEVELOPMENT IN THE HAIR LOSS FIELD.
Continuité shampoos, conditioners and bases stimulate capillary growth and contribute to the regeneration and health of the scalp.
Continuité solves the 30 most common hair problems, including itchy scalp, blocked follicles, psoriasis, eczema, oily dandruff and anemic hair.
Continuité products is a daily routine that can make a world of difference.
Prices range from $15.95 to $35.95 per product.
Free shipping is included when you order 3 units or more.

LADIES!
Woman Can also experience hair and health problems. Throughout their lives, they undergo significant hormonal changes which can affect the scalp.
Some also use chemical treatments on their hair that can contribute to moderate or severe hair loss.
The "Woman hair loss prevention" kit is an effective and preventative treatment against hair loss.
Want to learn more LADIES ?
There are many ways WE CAN HELP!
Book a free consultation today!
There are many ways WE CAN HELP!
Book a free consultation today!